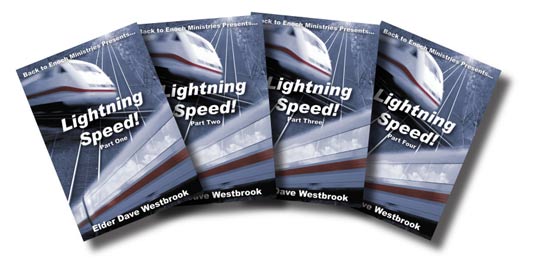 Lightning Speed - Part 1
In vision, Ellen White saw modern spiritualism depicted as a train traveling at the speed of lightning. It seemed to her that the whole world had gotten on board. The conductor was Satan himself. What are the various manifestations of this deceptive philosophy today? In this message, Elder Westbrook gives an overview of numerous forms of modern spiritualism as revealed in the Spirit of Prophecy
Lightning Speed - Part 2
One of the ways modern spiritualism disguises itself is in the form of a false gospel. What are the earmarks of this false gospel? This study gives an answer to this question while reviewing the key characteristics of the true gospel of Christ.
Lightning Speed - Part 3
The purpose of modern spiritualism is to prepare people for Satan's masterpiece of deception. What is this masterpiece? Furthermore, how can we help others who are trapped in spiritualism and yet still protect ourselves from its deadly grip?
Lightning Speed - Part 4
One of the most important contributions of Adventism is a correct understanding of the investigative judgment. It should not then surprise us that the enemy has made a special point of attacking this teaching. In recent years a subtle yet powerful heresy has arisen to destroy a clear understanding of the hour of God's judgment.